FREE SHIPPING OVER $50

Non-GMO + Allergen Free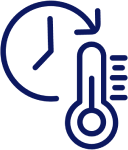 No Refrigeration Needed

Multi-Strain
Description
What's your gut feeling? Emerging science has revealed a very strong link between gut and brain health. Millions of nerves link the gut and the brain, in fact our guts are often called our "second brain". A balanced healthy gut will impact the brain and mood, just as signals from the brain can impact digestive health. We created this unique formula with clinically studied probiotics for digestive health and ingredients to support mood, boost energy levels, and help to reduce stress.
How to Use
Just take one acid-resistant capsule with a full glass of water first thing in the morning before eating food. It's as simple as that!

The benefits of probiotics are cumulative, which means they are meant to be consumed daily for optimal digestive, immune, and gut health.

HIGH POTENCY
50 Billion CFU in every capsule and 10 critical strains of lactobacillus and bifidobacterium.

BEST PROBIOTICS FOR WOMEN
Each of our capsules is packed with our proprietary blend of 10 crucial strains for women's health. Each capsule delivers 50 Billion CFU of the good bugs.
BOOST MOOD AND ENERGY LEVELS
With Ashwaganda, turmeric root and B vitamins we've added ingredients known to help boost mood and energy levels.

MADE IN THE USA WITH US AND WORLDWIDE INGREDIENTS
Non-GMO, Free of the 8 Major Allergens, No Chemicals or Preservatives, No Artificial Colors or Flavors. Oh, and we package our probiotics with Organic Cotton!

PROMOTE DIGESTIVE BALANCE
With probiotics known to support digestive health along with Biotin

LACTOBACILLUS PARACASEI

LACTOBACILLUS GASSERI

LACTOBACILLUS CASEI

STREPTOCOCCUS THERMOPHILUS

LACTOBACILLUS RHAMNOSUS

BIFIDOBACTERIUM BIFIDUM

LACTOBACILLUS ACIDOPHILUS
BIFIDOBACTERIUM LONGUM

LACTOBACILLUS SALIVARIUS
BIFIDOBACTERIUM LACTIS
FDA Disclaimer:
The information, advice, statements, and testimonials made about LoveBug Probiotics products mentioned on this website have not been evaluated by the United States Food and Drug Administration (FDA). The information on this site and the products listed are not intended to diagnose, treat, cure or prevent disease, nor are they intended to replace proper medical help. It is always recommended to consult with a healthcare professional before starting any regimen of probiotics. User-submitted testimonials are based on individual results and do not constitute a guarantee that you will achieve the same results – what works for one may not work for another.
If you're unhappy with your products for any reason at all, contact us at hello@lovebugprobiotics.com within 60 days of your purchase and we will refund your purchase.
Discount codes are only valid for up to 2 products. One use per customer. Exclusions may apply.
‡ Patented BIO-tract® delivery technology consistently delivers as many as 15 times, or more, the number of live, viable probiotic organisms past simulated stomach acids than (plain/standard) capsules as repeatedly demonstrated through in vitro lab testing. BIO-tract® is a registered trademark of Probi.
Sunday,Monday,Tuesday,Wednesday,Thursday,Friday,Saturday
January,February,March,April,May,June,July,August,September,October,November,December
Can't add more than [max] of this item. Please change quantity and try again.