FREE SHIPPING OVER $50
LoveBug Baby Probiotics for Colic, Reflux, Diarrhea, Constipation & Gas*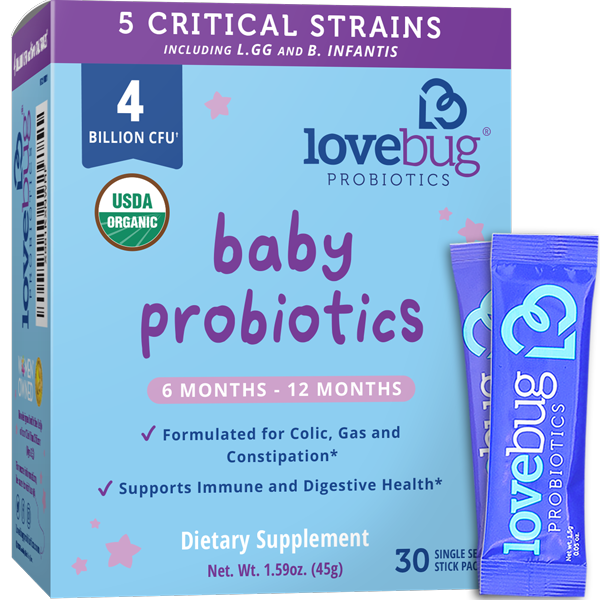 Why Developing Tummies Need Different Probiotics
Shockingly, by age 4 your baby's microbiome has almost finished developing and closely resembles that of a full-grown adult! LoveBug Infant Probiotics targets the crucial "First Months" developmental window with the strains studied for infant development. Make sure that the strains included in your probiotic include:
L. rhamnosus GG
L. rhamnosus GG is the most clinically studied strain and has been the subject of more than 200 clinical trials over the last 20 years. It has been extensively studied for its effect in babies with colic, diarrhea, digestive upset, and immune system issues.
B. Infantis
B. infantis is considered the super strain for babies. Only 30% of women in the U.S. carry this strain to pass on to their babies; in the developing world 90% of mothers carry it. Scientists don't know why this strain is disappearing in the West, but they do know it is crucial to a baby's health and development. This strain is critical during the early months of life when a baby's metabolism and immune system are developing. B. infantis evolved specifically to feed on the HMOs (Human Milk Oligosaccharides) in mom's breast milk and release chemicals that aid in brain and digestive system development. B. infantis is the good bacteria that takes up residence and can minimize the occurrence and growth of potentially harmful bacteria - especially those that are linked to a higher risk for conditions like colic, eczema, allergies, obesity, and diabetes.
B. lactis
B. lactis is one of the most abundant bacteria found in breastfed infants. It is also one of the most versatile and hardest working strains in the human body. Similar to other strains, this lactic acid bacteria may help fight lactose intolerance and boost the immune system.

Powder in Single-Use Packets
LoveBug Baby Probiotics Come In Easy-to-Take Single Use Packets.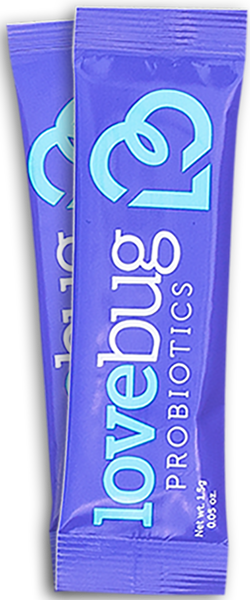 FDA Disclaimer:
The information, advice, statements, and testimonials made about LoveBug Probiotics products mentioned on this website have not been evaluated by the United States Food and Drug Administration (FDA). The information on this site and the products listed are not intended to diagnose, treat, cure or prevent disease, nor are they intended to replace proper medical help. It is always recommended to consult with a healthcare professional before starting any regimen of probiotics. User-submitted testimonials are based on individual results and do not constitute a guarantee that you will achieve the same results – what works for one may not work for another.
If you're unhappy with your products for any reason at all, contact us at hello@lovebugprobiotics.com within 60 days of your purchase and we will refund your purchase.
Discount codes are only valid for up to 2 products. One use per customer. Exclusions may apply.
‡ Patented BIO-tract® delivery technology consistently delivers as many as 15 times, or more, the number of live, viable probiotic organisms past simulated stomach acids than (plain/standard) capsules as repeatedly demonstrated through in vitro lab testing. BIO-tract® is a registered trademark of Probi.
Sunday,Monday,Tuesday,Wednesday,Thursday,Friday,Saturday
January,February,March,April,May,June,July,August,September,October,November,December
Can't add more than [max] of this item. Please change quantity and try again.